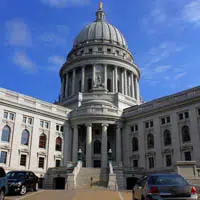 Another Democrat is ending his campaign for governor.
Rep. Dana Wachs of Eau Claire is the second candidate to drop out in two days. Wachs is endorsing Tony Evers in the August 14 Democratic primary. He says Evers has the best chance to win against Governor Walker in November.
Wachs says leaving the race was one of the most difficult decisions he's had to make.
Businessman Andy Gronik of the Milwaukee area bowed out yesterday. He's endorsing Kelda Roys.
There are now eight Democrats in the race.