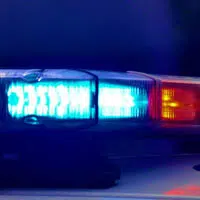 Oneida police say a Green Bay man led officers on a 14-mile chase, after an incident that involved a weapon.
They say the 29-year-old man took off from a home in the 6400 block of Evergreen Drive yesterday. After he crashed in the 2900 block of Freedom Road, police say he ran off.
A 19-year-old Oneida woman was still in the car, and she was arrested. Officers then tracked down the driver, and took him into custody.
The two could face a series of charges, including first-degree reckless endangerment, battery, and eluding police.