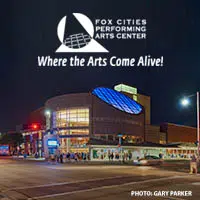 Two of the big winners of a local high school theater competition are back from New York City, after a week of learning from people on Broadway.
Kimberly High School graduate Travis Vandenberg and Green Bay East grad Paige Neumeyer were part of the National High School Musical Theatre Awards.
Vandenberg says they had different roles in a one-night showcase, in a Broadway theater. He says the directors made sure that they weren't there for a walk in the park. He says they treated the students like professionals, and they rehearsed for long days. But Vandenberg says that was probably the most rewarding part.
Neumeyer says as intimidating as some of the Broadway professionals could be, you realize that they're just people and they're trying to create art with the students. She says it was nice to set everything aside and focus on the final product.
Neumeyer is going to Milliken University in Ill. this fall to study musical theater. Vandenberg will double major in English education and musical theater at UW-Eau Claire.