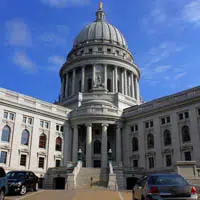 A Republican candidate for state treasurer says he was fired because he wouldn't drop out of the race.
Travis Hartwig's campaign says he was a mutual fund administrator for U.S. Bank in downtown Milwaukee. He says the bank told him last month to get out of the race or resign. He refused to do either.
Hartwig plans to file a complaint with the federal Equal Employment Opportunity Commission and the Fair Employment Practices Agency.