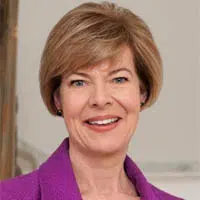 Wisconsin's Democratic U.S. Senator says she won't support President Trump's pick for the Supreme Court.
Sen. Tammy Baldwin of Madison says Brett Kavanaugh would "turn back the clock on a woman's constitutional right and freedom to make her own health care choices." She says people need a fair, impartial, independent justice.
Republican U.S. Senator Ron Johnson of Oshkosh said earlier this week that he supports Kavanaugh, and he's looking forward to a quick confirmation.