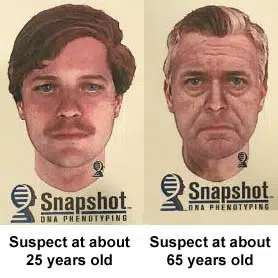 Some people are reaching out to investigators in Marinette County, after the Sheriff's department released new sketches of the suspect in a double-murder cold case.
25-year-old David Schuldes and 24-year-old Ellen Matheys were killed while they were camping at McClintock Park 42 years ago.
Sheriff Jerry Sauve says they've received information from about 30 people, by phone or email. He says a number of the names were previous suspects, and they were ruled out through DNA or other investigative work. But he says some of them were names investigators hadn't heard yet.
Sauve says they hope to hear from more people, as the sketches continue to circulate.
Investigators worked with a company, Snapshot, to create two sketches, using DNA to develop what the suspect could look like.