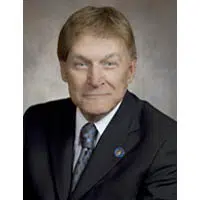 A longtime state lawmaker from the Fox Valley died this morning.
Former Sen. Mike Ellis of Neenah passed away at 77.
Ellis was a Republican, and he spent 44 years in the state Legislature, including 32 in the Senate. He was the Senate Majority Leader for several years, and the Senate President at the end of his tenure. He was in the Assembly from 1971 to 1982. He served in the Senate from 1983 to 2015.
Ellis was also on Neenah's city council from 1969 to 1975.
Former Republican Sen. Alan Lasee served with Ellis for almost 30 years. He says Ellis left a big imprint on the state. He says no one in the Legislature knew and understood state budgeting like him.
Lasee says Ellis was a very close friend, and one of the very few he had in the Legislature. He says Lasee was extremely candid, and you never had to second-guess where he stood. He thinks that's why they became good friends.
Ellis was a weekly guest on "Fresh Take with Josh Dukelow" on WHBY after he left office.
Here are some of the statements that state and local officials released:
Governor Walker
"Tonette and I are saddened to hear of the passing of Senator Mike Ellis. He was a giant in the Legislature and a bigger-than-life personality in Wisconsin politics. I enjoyed serving with him as a lawmaker and as governor. We were just on the radio together recently and I love his wit and passion. He will be missed by so many of us. Tonette and I send our prayers to his entire family."
Republican Sen. Roger Roth of Appleton. He succeeded Ellis in the 19th Senate District.
"I am deeply saddened by the news of the passing of Michael G. Ellis. Mike was a dedicated public servant, a highly-respected colleague, and a good friend. He was a tremendous mentor to me and I knew I could look to him for guidance on any issue. His breadth of knowledge and experience always kept him two steps ahead of everyone.
"I will miss most the ability to pick up the phone to talk to him – to discuss a state issue or just to talk about what's happening in the district. I will always appreciate the time we shared and the sound advice I received from him.
"Someone once told me that Mike Ellis wasn't just the leader of the Senate, he was the Senate. No matter what was happening in the Capitol, Mike knew about it and was already working it out. He has left a lasting impression on this state because of his strong personality and dedication to public service.
"He was the epitome of putting his district first and politics second. He had no problem challenging his caucus and reaching across the aisle to fight for his constituents, with most conversations ending with a laugh.
"His first bit of advice to me was, 'Roth, take care of the sidewalks in your district first.'
"He will be greatly missed by his fellow colleagues at the Capitol and his constituents here in the 19th Senate District. My thoughts and prayers are with his family at this time."
Republican Sen. Rob Cowles of Green Bay
"I'm deeply saddened by the passing of my good friend and former colleague Mike Ellis. There was no one quite like Mike. He was a decisive, honest, and dedicated legislator. His humor and wit will be greatly missed by all who knew him in the Capitol and throughout the Fox Valley.
"Please keep his wife Sandy and his family in your thoughts and prayers, and please give them the opportunity to process this tragic passing."
Republican Congressman Glenn Grothman of Glenbulah. He served with Ellis in the state Senate.
"It is with great shock and sadness when I found out former State Senator Mike Ellis has left us. We served together for 21 years in the state legislature before both leaving in 2014. He was perhaps the most memorable character of the many legislators I served with. He was always an independent voice in an occupation sorely missing independent voices."
"He enjoyed recounting the story of a lobbyist showing up to his office with cash for campaign contributions and throwing him out. He enjoyed holding court, be it at the Avenue Bar in Madison or Payne's Point in Neenah, with his beloved wife Sandy. He also enjoyed talking about his siblings, nieces and nephews and his high school days as a star guard on the Neenah Rockets high school team."
"He was vibrant until the end and it's hard to imagine going to Neenah and not being able to see him."
Democratic Sen. Dave Hansen of Green Bay
"I am saddened to hear of Senator Ellis's passing.
"While we did not always agree, I enjoyed working with him.  He possessed a great institutional memory, had a very quick wit and was an extremely skilled debater.  He was also a dedicated public servant whose impact on our state will not soon be forgotten.
"Our thoughts and prayers are with Senator Ellis's family during this difficult time."
Republican Rep. Dave Murphy of Greenville
"Mike Ellis was a mentor, a friend and a constituent. I will miss him dearly. When I first joined the State Assembly, Mike welcomed me with open arms to the Fox Valley contingent. It was an incredible privilege to serve with him and learn from him in the legislature.
"Mike literally paved the way to the Fox Valley, by championing upgrades to I-41. I'm doing all I can to carry on this issue and ensure that Mike's 'Main Street of the Valley' is everything our community deserves it to be.
"Just last month, Mike spoke at one of my events. He still had the same fire and drive that made him an unparalleled force in the legislature. It's difficult to believe that he's gone, as his colorful football metaphors are still ringing in my ears. He will be missed."
Democratic Rep. Amanda Stuck of Appleton
"Today, the Fox Valley mourns the loss of a tremendous public servant and strong personality. While I never served in the Legislature with Sen. Ellis during his 44 year career in Madison, his impact in the Capitol and in the Fox Cities continue to this day."
"Since leaving the Legislature in 2014, Mike continued to be active in politics and vocal in the Fox Valley, with a frequent guest spot on WHBY to comment on the topics of the day. While Sen. Ellis and I did not agree on every issue, he was never shy in calling out bad ideas regardless of which party put them forward, and always ready to stand up for the Fox Valley and his district."
"My thoughts and prayers are with every member of the Ellis family in this difficult time."
Outagamie County Executive Tom Nelson
"I was devastated to learn the news of the untimely passing of former Senator Mike Ellis. For 40 years, Senator Ellis dominated the political landscape of the Fox Valley — and beyond. There were few budgets or laws that he did not play a major role in shaping. For Senator Ellis no issue was too big, too small, too controversial or too mundane. All were important to his constituents.
"A favorite son of the Fox Valley, his sense of service and commitment to our community was unrivaled. And his focus on constituents and placing the interests of the Fox Valley above of all else guided his public service.
"Quite simply, there will be no other. Senator Ellis will be sorely missed but his influence will be felt for years to come."
Republican Sen. Alberta Darling of River Hills
"I am shocked and saddened by the passing of Mike Ellis. Mike was a legend in state politics. His leadership and decades of service to the people of Wisconsin helped make our state a national leader in reform.
Mike's stories were as famous as his political skills. He will be greatly missed.
My condolences go out to his wife Sandy and his family."