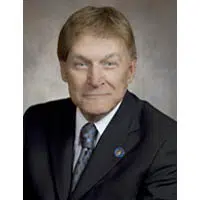 A lawmaker from Neenah thinks both parties will be on board with Governor Walker's proposal to name the I-41 interchange with Highway 10-441 after former Sen. Mike Ellis.
Ellis died last month at the age of 77.
Republican Rep. Mike Rohrkaste says Ellis championed the project for the past 20 years, and it would be a tribute to his work and effort. He hopes the proposal is one of the first things they take up when lawmakers return to the Capitol next year.
There's a memorial service for Ellis today from 4 p.m. to 8 p.m. at Bridgewood Resort Hotel & Conference Center in Neenah. A eulogy is set for 7:30 p.m.
Ellis spent 44 years in the Legislature. The governor ordered flags be flown at half-staff today to honor Ellis.