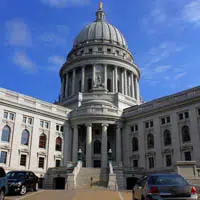 The former head of the state's prison system is criticizing Governor Walker and the state's attorney general in a new book.
Former Corrections Secretary Ed Wall says in the book "Unethical" that the two drove him to the brink of suicide.
Wall resigned from his job in 2016 during the scandal at the Lincoln Hills youth prison. Under state law, Wall was able to return to his previous job with the state justice department.
Attorney General Brad Schimel fired him, after Wall suggested that Walker's chief of staff shred a letter he wrote.
Wall also says Walker told him in a private meeting that he feared President Trump would destroy the GOP.
A Walker spokeswoman says Wall's accusations are false attacks coming from someone fired from the justice department.