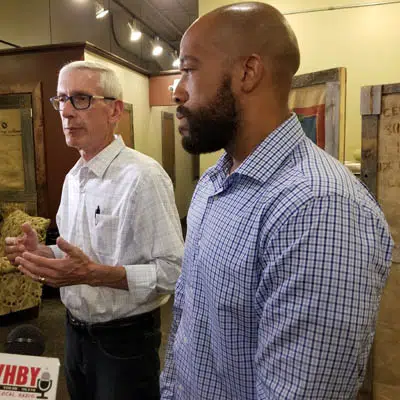 A day after winning the crowded Democratic primary for governor, state Superintendent of Schools Tony Evers made stops in Appleton and Oshkosh.
He was at Copper Rock Coffee Company in downtown Appleton, and he disputed Governor Walker's claim that Walker is the "education governor."
Evers says Walker has done more to devastate public schools, K-12 and higher education, than any other governor in state history. Evers is proposing to restore two-thirds state funding of schools, and prioritizing special education and mental health services.
Evers says communities around the state have to go to referendum to raise their own taxes for basic services, because Walker hasn't supported schools enough.
(Pictured: Democratic candidate for Governor, Tony Evers, left, and Democratic candidate for Lieutenant Governor, Mandela Barnes, right.)