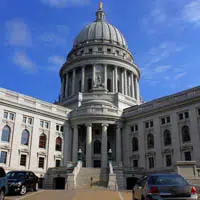 The leader of the Democratic party in Outagamie County finished first in the primary for a seat in the state Senate.
Lee Snodgrass defeated Outagamie County Board member Dan Grady in the 19th district.
Snodgrass will meet Republican Sen. Roger Roth of Appleton in November.
There was a GOP primary in the 1st Senate District, and Andre Jacque of De Pere easily won over Bill Nauta. Jacque will again take on Democratic Sen. Caleb Frostman of Sturgeon Bay in November.