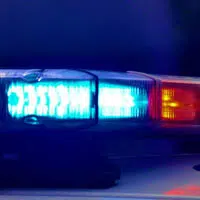 Police say a gas station off I-41 in the Town of Lawrence was robbed at gunpoint early this morning.
Hobart/Lawrence police say the suspect walked into the Kwik Trip on Freedom Road around 1:45 a.m. They say he had a handgun, and he ordered workers to give him the money in the cash registers.
They say the black male drove off, and they believe he headed south on I-41. They say he was in a blue Volkswagen Jetta-type car.
Police say he was wearing a black ski-type mask and a black hooded sweatshirt.