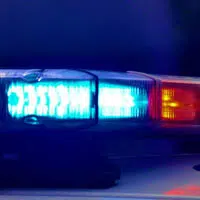 Appleton police say a 37-year-old Hortonville man was killed in an early morning crash in the downtown.
They say he was speeding on S. Memorial Drive when he hit a median and a light pole, near the intersection with College Avenue, around 2:15 a.m.
His car ended up on its side against a pole with a railroad crossing gate and lights. Police say the driver was trapped in the car, and he died at the scene.
They haven't determined if alcohol was a factor.
Police closed the intersection of College Avenue, Memorial Drive and Richmond Street for several hours.