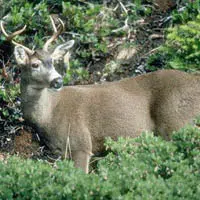 An emergency rule passed this month by the state's Natural Resources Board will change the way many hunters handle the deer they harvest.
It's aimed at reducing the spread of chronic wasting disease which is contagious and fatal to deer. CWD was first detected in southwestern Wisconsin in 2001 and has spread to 55 of the state's 72 counties.
Jeff Pritzl is the wildlife program supervisor in northeast Wisconsin. He says Green Bay is as far away from the disease as you can be in the state. He says they want to keep it that way.
He says the DNR is in the process of creating a video to show hunters how to quarter their deer in the field.