Fox Valley Restaurant Week will soon be here, so we welcomed Bob Wall with Green Gecko Grocer & Deli to the show, to share some of what they'll be creating this year!
Bob brought along one of the entrees from the $13 lunch option. His Smoked Chicken, Spinach and Gruyere Crepe is something you won't want to miss out on. It featured Neuske's smoked chicken, spinach and Emmi Roth Gruyere Cheese wrapped in a homemade crepe and topped with Parmesan Gruyere cream. Hungry yet?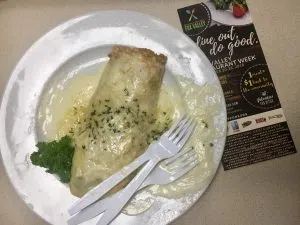 Restaurant Week starts September 20 and runs through the 26th! New this year, is "Dine Out. Do Good." — For each plate served at each restaurant over the course of the week, $1 will be donated back into the community, benefiting Volunteer Fox Cities.
We also heard from Rob Billings with the 5 Milers. The folk group is teaming up with the Fox Valley Symphony Orchestra this Thursday, to host a benefit concert. The concert begins at 7 p.m. on Thursday, September 13 at the Fox Cities Performing Arts Center.
You can get tickets by calling (920) 730 3760 or by visiting the Fox Cities P.A.C. Box Office.