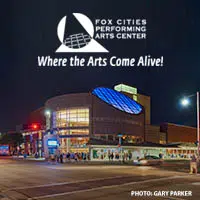 Sophomores from more than 40 high schools around northeast Wisconsin are hearing about what can happen, if they drive while they're distracted or drunk.
PARTY at the PAC is today and tomorrow, at the Fox Cities Performing Arts Center in downtown Appleton.
Twenty-seven-year-old Brooke Wedeward of Madison is telling them about how she hit a man, after she only cleared part of her windshield during the winter. The man, Mark Friend, lost one of his legs and he joined her to talk about the aftermath.
Wedeward says she assumed she was going to be safe, because she was just a mile from the house she grew up in. She says she wasn't safe, and she was driving a vehicle that's thousands of pounds of metal, and can hurt anybody.
Wedeward says when drivers get behind the wheel, they need to make sure they're not doing something questionable.