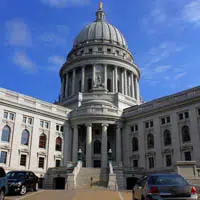 A government watchdog says tomorrow's election could have an impact on the state's future political boundaries.
Jay Heck of Common Cause says if Democrat Tony Evers would win the race for governor he would still be in office when the next district maps are drawn in 2021.
Right now, Republicans have majorities in both houses of the Legislature. If Governor Walker wins, Heck says there could be a repeat of 2011 when the GOP had control of all three. He says the result was that they created a system that favored Republican candidates called gerrymandering. He says there are very few competitive seats.
The current maps led to a number of lawsuits including one that went to the U.S. Supreme Court. Heck wants a non-partisan agency to draw the boundaries instead.