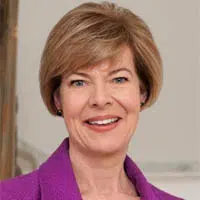 It didn't take long for one statewide race to be over.
Democratic U.S. Senator Tammy Baldwin was declared the winner over Republican Leah Vukmir, not long after the polls closed at 8 p.m. It will be Baldwin's second term.
She says she's going to do what's right for the people of the state. She says that includes manufacturers, by continuing to push for her "Buy America" bill.
Vukmir spent the past 16 years in the state Senate and Assembly. She gave up her Senate seat to run for the U.S. Senate.