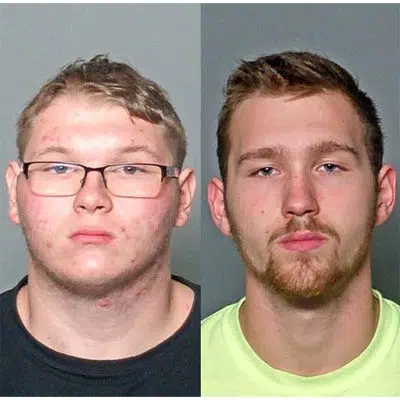 Appleton police arrested two Menasha brothers for a home invasion in the downtown area.
Sgt. Dave Lund says the victim told officers he was attacked by three people, and hit with a stun gun, around 10 a.m. Wednesday morning. The house is in the 700 block of W. Eighth Street.
Lund says the suspects took two safes, and they were at least looking for money. He says they believe the break-in was an isolated incident.
Nineteen-year-old Tyler Brown and his 17-year-old brother Caleb were taken into custody Wednesday night.
Lund says someone called police, after seeing a person throwing a bag into the Fox River from a pickup truck that was going over the Memorial Drive Bridge. He says they later got a call about people acting suspiciously on the Fox Valley Technical College campus. Police say they dumped one of the safes there and took off before Grand Chute officers got there.
Lund says the suspects put the other safe in the garbage, at a gas station by the Fox Valley Tech campus.
Lund says they're still looking for anyone else involved. He credits people for calling police when they saw something suspicious.
(Pictured: Tyler Brown, left, and Caleb Brown, right.)