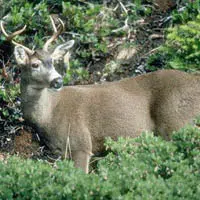 Hunters will head into the woods tomorrow for opening day of the nine-day gun deer season, and a DNR expert says conditions should be good.
Big Game Ecologist Kevin Wallenfang says there could be some snow tonight, and that would certainly help.
He says the timing of the nine-day season should have an impact too. Wallenfang says it's the earliest possible opener, and some deer should still be in the rut.
Wallenfang says the size of the herd is good in the southern two-thirds of the state. He says deer numbers have bounced back in northern Wisconsin, thanks to some recent mild winters.