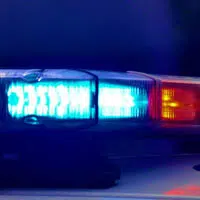 A man is in custody, after a late-night crime spree in the Greenville area that included the kidnapping of a 13-year-old girl in a stolen truck.
Staff Sgt. John Hoffmann is with the Outagamie County Sheriff's department. He says they went to a crash on Highway 96, east of Highway 76, around 11 p.m. yesterday. He says the driver of a Cadillac Escalade hit a truck, and then stole a Good Samaritan's truck, after that person stopped to help. The 13-year-old girl was inside, along with a rifle.
He says the suspect dropped the girl off at a gas station, and she was safe.
Hoffmann says then they learned of a hit-and-run crash in the Medina area, and they arrested the suspect in a field.
At the start of the spree, he says the man was driving a red car and he crashed into a house. He says the suspect then rammed into some outbuildings and a garage. Hoffmann says that's when the man stole the Cadillac Escalade.
He says the suspect had meth, and they believe drugs were a factor.
Hoffmann says the girl was helping deputies track the man, after she was dropped off. He says she left her cell phone in the truck, and she was using her "find my phone" app.