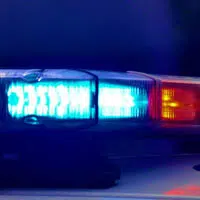 A 36-year-old Omro man was killed in a crash on I-41 North in the Oshkosh area.
The Winnebago County Sheriff's department says he lost control of his car on the bridge over Lake Butte des Morts around 3:30 a.m. today. Deputies say he hit the median, crossed all three lanes, and was hit by a semi.
They believe slippery conditions and speed were factors. Right now, they don't think alcohol or drugs were involved.
The northbound lanes of I-41 were shut down for about 2-1/2 hours.