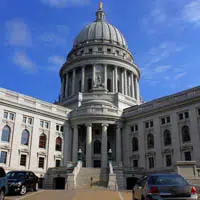 Majority Republicans have the list of bills they want to take up during their lame-duck session next Tuesday.
They're only releasing vague descriptions of the six proposals so far.
They say one would guarantee coverage for pre-existing conditions. Another would move the 2020 presidential primary from April to March.
Others would add work requirements for state benefits, and change the composition of state agencies.
Outgoing Governor Walker could sign the bills before Democratic Governor-elect Tony Evers takes office.
The proposal to move the 2020 presidential primary could also limit early voting in the state. Majority Republicans are considering banning communities from holding in-person voting, until about two weeks before the election.
Right now, local clerks currently set their own schedule, and they could start 47 days before a federal election. The timeline is 21 days for a state election.
A federal judge threw out similar Republican-backed restrictions on early voting a couple of years ago. The judge said they intentionally discriminated against minorities in Milwaukee.