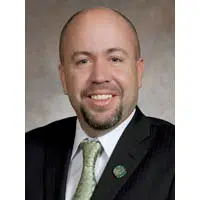 Lawmakers are expected to vote sometime today on a series of proposals to limit the power of the incoming Democratic governor and attorney general.
Assembly Majority Leader Jim Steineke says they're trying to protect what Majority Republicans have done over the past eight years. He says they need to rebalance the power between the governor's office and the Legislature.
Steineke was a guest on Fresh Take with Josh Dukelow on WHBY this morning.
Opponents cast them as a last-minute power grab, and an attempt to invalidate the results of the November election.
The proposal to move the 2020 Democratic presidential primary from April to a special election in March appears dead. There wasn't enough support from members of the Legislature's budget committee.