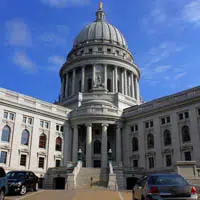 Majority Republicans passed a series of proposals to limit the powers of Governor-elect Tony Evers and the incoming attorney general, during a session that went through the night.
They also agreed to limit early voting to 14 days before an election.
Assembly Speaker Robin Vos says they need to balance the power of the different branches of state government.
Assembly Minority Leader Gordon Hintz of Oshkosh says the bills show the lengths that people will go to retain power.
Republicans passed laws to limit the governor's ability to implement administrative rules that enact laws, and temporarily give the Legislature the power to control appointees to the board that runs the state economic development agency.
The law also requires legislative approval to withdraw from lawsuits, taking that away from the attorney general. That move is designed to block incoming attorney general, Democrat Josh Kaul, from removing Wisconsin from a multi-state lawsuit challenging the federal health care reform law.
Republicans couldn't get enough votes to pass a bill to protect coverage pre-existing conditions. They also dropped a proposal that would let the Legislature hire private attorneys to handle lawsuits, instead of the attorney general's office.
The session ended around 8:30 a.m. Wednesday, after Republicans negotiated behind closed doors throughout much of yesterday and the wee hours of the morning.
The package of bills is now headed to Governor Walker for his signature. He's signaled he'd sign them before he leaves office.