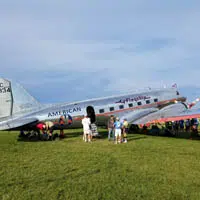 A former passenger plane at EAA AirVenture in Oshkosh gives people a chance to see what it was like to fly on an airline's plane in the 1930s and 40s.
A DC-3 that was part of the American Airlines fleet is on display in the Vintage area. It was built 80 years ago, in 1937.
George Dennis is the executive director of the Flagship Detroit Foundation. He says their plane was based out of Detroit, and it brought people to and from cities in the Midwest and northeast.
Dennis says the plane had room for 21 people, with two pilots and a stewardess. He says back then, the stewardess also had to be a registered nurse.
Dennis says the logbooks show that former First Lady Eleanor Roosevelt rode on the plane 13 times. He says the plane was found in a field, in pieces, in 2004, and they refurbished it to its original condition.