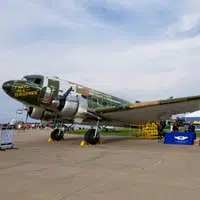 Work is progressing on the plane that led the aerial invasion on D-Day, and it's being done in Oshkosh.
The plane named "That's All Brother" is on display in Boeing Plaza at EAA AirVenture again this year.
Ray Clausen is with the Commemorative Air Force in central Texas. He says they're going to restore it to the way it looked on D-Day.
Clausen says they hope to start flying the plane in late September or early October. He says then it will be moved to Texas and Oklahoma for the rest of the work.
He says they plan to bring it back to Normandy in 2019 for the 75th anniversary of D-Day.