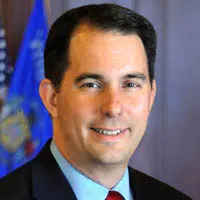 A technology company will build a massive plant in southeast Wisconsin to make liquid-crystal displays.
Foxconn's leader made the announcement this afternoon at the White House.
Governor Walker says the project will cost up to $10 billion and it will create 13,000 jobs.
Walker wants to provide three billion dollars in incentives to Foxconn. He says the company would earn those incentives based on the actual number of new jobs and the capital investment.
Walker says the average salary for the new jobs would be $53,000 a year plus benefits.
He says the plant will create another 22,000 jobs to support the facility's operations.
Foxconn is mostly known for producing iPhones for Apple.