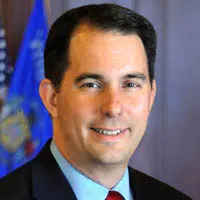 Foxconn wants to build a $10 billion manufacturing plant in southeast Wisconsin but the company hasn't followed through with smaller projects in two other cases.
Governor Walker says the plans in Pennsylvania and Brazil didn't move forward after there was a change in state or federal leadership. He says that led to instability.
The governor was a guest on Fresh Take with Josh Dukelow on WHBY this morning. Walker says they made sure that both parties were in the loop during the recruitment.
Walker says the proposed $3 billion in tax credits and incentives will only be paid out if Foxconn meets specific benchmarks.
The company plans to create 13,000 jobs and workers will make liquid-crystal displays. You can hear the entire interview with Governor Walker on the Fresh Take Podcast page at whby.com.