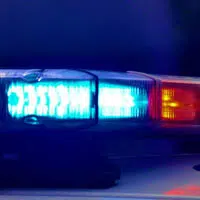 An 18-year-old Green Bay man's injuries are not life-threatening, after he crashed during a police chase on I-43 near Bellevue.
The State Patrol says the man was thrown from the car when he missed a curve, near Highway JJ, around 2 a.m.
An 18-year-old De Pere woman was riding with him, and she wasn't hurt.
Brown County sheriff's deputies and state troopers were chasing the man, and speeds reached 100 miles an hour. The man was arrested for driving drunk, and he was taken to a hospital.