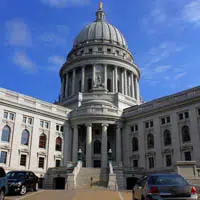 Majority Republicans will set a record for the most overdue budget when one party is in control of state government.
Dating back to 1931, lawmakers haven't gone into September with a single party in charge.
The Legislature's budget committee met for the first time in more than two months yesterday. Over that time, Republicans in the Assembly and Senate have been at a standstill over transportation funding, and some other issues.
Todd Berry of the Wisconsin Taxpayers Alliance says no matter what party is in control, it's rare for the committee to take this long.
The longest it took one party to finish a budget was in 1969, when Republicans finished their work on August 30. Former Rep. Harold Froehlich of Appleton was the Assembly Speaker at that time.
Lawmakers actually didn't complete the budget until October three times in the past 20 years, when control was split between parties.
The latest a budget got done, on record, was in 1971. That one was signed on November 4.