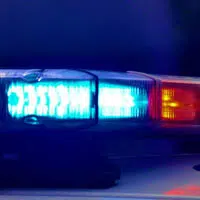 The state justice department says three Kewaunee County sheriff's deputies and one Kewaunee city police officer were involved in last week's police shooting.
All four are on paid administrative leave while the investigation continues.
The state Division of Criminal Investigation says one deputy shot and killed 22-year-old Tyler Whitmire along Highway A-B, south of Highway 29, in the town of Franklin. The deputy is a five-year veteran of the sheriff's department.
Investigators say Whitmire had a confrontation with authorities, after he threatened a woman and neighbors.