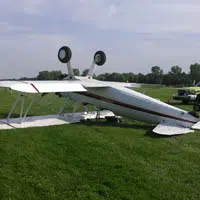 The FAA and National Transportation Safety Board are investigating a plane crash at Pioneer Airport in Oshkosh.
Police say the plane crashed and flipped upside down just after 4:00 p.m. yesterday.
One man suffered minor injuries, the other wasn't hurt.
Police say a 56-year-old Minnesota man and a 60-year-old Tennessee man were the only two on board.