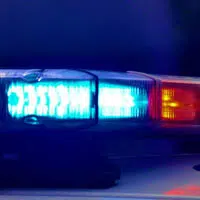 Winnebago County's top prosecutor is clearing an Oshkosh police officer of any criminal charges in a shooting.
District Attorney Christian Gossett made that announcement Thursday afternoon.
Investigators say 28-year-old Isaiah Tucker was killed in July, while he was trying to steal a car in the 300 block of Knapp Street. Gossett says two officers wanted to stop Tucker from driving away, but he backed out of a garage and tried to drive through a yard. He says Tucker drove his car forward, toward the officer, while the officer had his gun drawn.
Gossett says the officer fired 11 shots at the car, and Tucker was hit twice — in the right shoulder and left leg. An autopsy showed Tucker later died from the shoulder wound.
Assistant District Attorney Mike Balskus showed the body camera footage from both officers. He says Tucker had meth, cocaine, and signs of heroin use in his system.
Police were called to the house by a woman who tried to get Tucker to leave. The two have a child together. Balskus says Tucker would stay there from time to time.