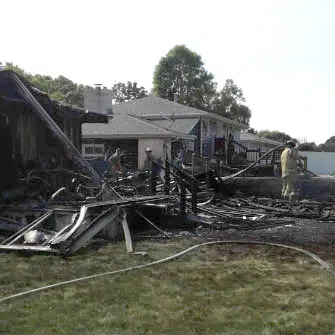 A garage fire damaged three homes on Kaukauna's south side Thursday afternoon.
Firefighters were called to a house in the 500 block of Roger Court around 1:30 p.m.
Asst. Fire Chief Travis Teesch says the garage was fully engulfed in flames when they got there. He says the flames spread to the back of the house, and to the siding of the homes on both sides.
A three-season porch at the home was destroyed, along with a car in the garage. Teesch says there's fire damage to the back of the house, and smoke damage inside.
A neighbor says he heard a loud "pop" or a "bang," and the fire got going quickly.
No one was hurt. A damage estimate isn't available yet. Investigators are looking for the cause.
(Photo courtesy of Midwest Restoration.)