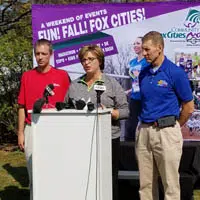 Organizers of Sunday's Fox Cities Marathon are making plans to deal with hot weather on the big race day.
Amanda Secor of the marathon says they're urging runners to play it safe over the weekend. She says it might not be the time for runners to go for their fastest time.
Organizers are offering to switch runners from the full marathon, to the half marathon, at no cost. Secor says they would also get a discount for the full marathon in 2018.
Secor says they also plan to have more water stands and ice available, along with air-conditioned buses that runners can go into, if they need a break from the heat. She says they're also adding more medical teams around the course.