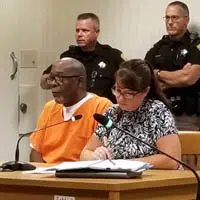 A 58-year-old Appleton man is facing formal charges for the murder of his live-in girlfriend on Appleton's southeast side.
Prosecutors say Johnny Scott also pointed a gun at the woman's teenage son in their duplex on E. Canary Street. They say 48-year-old Annie Ford was shot multiple times early yesterday morning.
Scott's bond was set at $750,000 during his first court appearance this afternoon.
District Attorney Melinda Tempelis says she's charging Scott with first-degree intentional homicide after Ford was killed during an argument over $800 and a TV issue.
Scott is also charged with reckless endangerment on accusations that he pointed the gun at the boy's chest, after the shooting.
Police say they were called to the duplex twice, several hours earlier, because of an argument. They say those situations didn't meet the criteria, under the state's mandatory arrest law in domestic abuse cases.