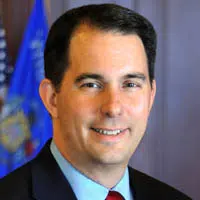 Governor Walker says he's not going to tell others what they should or shouldn't do during the national anthem.
Walker was in Green Bay Wednesday, and he talked about the controversy in the NFL. He says he stands for the anthem, and puts his hand over his heart, for all the veterans and people fighting around the world.
Green Bay Packers players are asking fans to join them by locking arms with each other Thursday night. The Packers are playing the Chicago Bears at Lambeau Field.