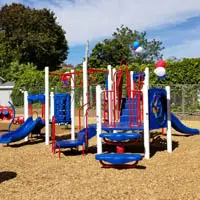 Children at a domestic abuse shelter in Appleton have a new playground, thanks to the work of a Boy Scout.
Seventeen-year-old Trevor Kislewski raised $40,000 to build it at Harbor House, for his Eagle Scout project. He spent two years collecting donations.
Kislewski was honored for his work yesterday morning, during a ribbon-cutting ceremony for the playground.