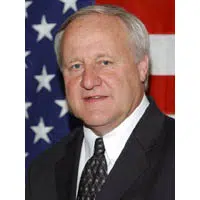 A judge is ordering Governor Walker to hold special elections for two seats in the Legislature, including the 1st Senate District in northeast Wisconsin.
A national Democratic group led by former Attorney General Eric Holder filed a lawsuit to try to force an election. Dane County Judge Josann Reynolds issued the ruling, and she gave Walker until March 29 to issue an order. Reynolds was appointed to the bench by Walker.
Republican Sen. Frank Lasee of De Pere resigned last December to join the Walker administration. The other open spot is an Assembly seat in southcentral Wisconsin.
Democratic Sen. Dave Hansen of Green Bay says he lives about a mile from the 1st District border. He says when there was the debate on school safety, 170,000 people weren't represented. He says without the special elections, they won't be represented for another year. He says some bills also spent money in that time, so he argues they had taxation without representation.
Walker argued that holding special elections wouldn't be worth the cost, since the Legislature planned to finish its work for the year, in the spring.
Attorneys from the state justice department are representing Walker. A spokesman for the department says they're talking about next steps.