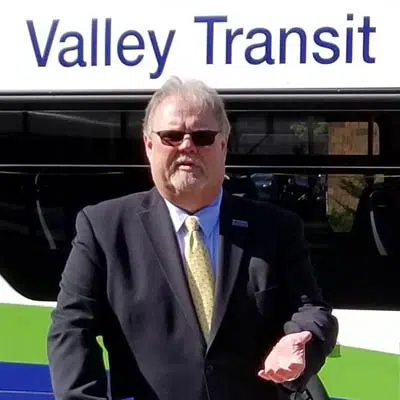 The federal government is going to help Valley Transit get new buses.
The bus system is receiving a $4 million transportation grant, and the money will be used to replace about one-third of the fleet.
General Manager Ron McDonald says some of their buses are 24 years old, and they have more than 800,000 miles on them. He says the federal standard for an "outdated" bus is at least 12 years old, with 500,000 miles.
McDonald says they should be able to buy at least 10 buses over the next two years, thanks to the grant. He says they bought three 2017 buses, and three new ones are already coming next February. McDonald says that means 16 of their 28 big buses will be at least 2017 models.
Valley Transit will contribute $1 million as part of the grant. The bus system already has the money in a depreciation account.
(Pictured: Valley Transit General Manager Ron McDonald talked about the federal grant with a bus from 1994 in the background.)