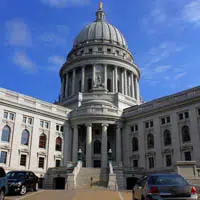 Local officials gathered at the Ashwaubenon Community Center yesterday to talk about closing the dark store loophole.
It lets companies assess their open business as an empty one and that lowers taxes. Some local governments make up the lost money by increasing taxes for homeowners and small businesses.
Jerry Deschane is the executive director of the League of Wisconsin Municipalities. He says they have bipartisan support in the state Assembly and Senate but they need leadership to make it a priority. He says they need the governor's help to get it in the state budget next year and get it done.
Members from the League of Wisconsin Municipalities, the Wisconsin Counties Association, and the Wisconsin Towns associated were at yesterday's event.
A referendum question on the Dark Store Loophole is on the November ballot for 17 counties and five communities across the state.