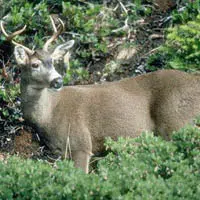 Hunters will head into the woods tomorrow for the start of the nine-day gun deer season.
Kevin Wallenfang is a big game ecologist with the DNR. He says herd numbers are looking decent this year. He says they consider the lower two-thirds of the state the farmland. He says that region has a good habitat for deer, and they never seem to have a shortage in that area.
Wallenfang says the upper third of the state is known as the northern forest. He says the herd was smaller a few years ago but it's bounced back because of mild winters.
The gun deer hunt starts tomorrow and goes through the 25th.