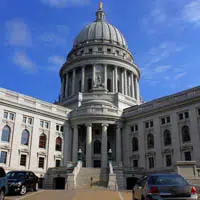 Two leaders in the Legislature from the Fox Cities will be watching a budget provision that impacts pedestrian and bike trails.
Governor Walker didn't veto a last-minute proposal that bans local governments from using eminent domain to buy property for projects.
Representative Jim Steineke of Vandenbroek is the Assembly Majority Leader. He says he understand people's frustrations, but they also have to make sure public walkways and paths aren't affected either.
Some local government leaders around the state are concerned that a single property owner could derail a project that's needed for safety reasons.
Senate President Roger Roth of Appleton says they may have to make changes to the law in the future. He says he thought communities already had enough property in the right-of-way for sidewalks. But Roth says he's hearing from some communities that they would need more land.