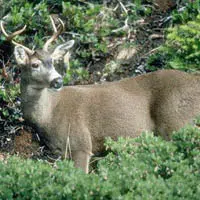 During the opening weekend of the nine-day gun-deer season, hunters didn't bring home quite as many deer as last year.
Nearly 103,000 were registered, and that's a drop of almost 12 percent. Sixty-thousand were bucks, and that's down nearly nine percent.
Kevin Wallenfang is a big game ecologist with the DNR. He says the deer population is up over the past few years, but weather may have had an impact. He says the southern parts of the state had heavy rainfall Saturday morning, and that put a dent in numbers.
Wallenfang says there's still plenty of the season left, and hunters should be optimistic. He says the harvest from the early archery season is up, so there are deer to be had.