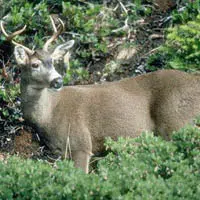 A regional director for a conservation and hunting group is reacting to the totals from this year's gun deer season.
The DNR reports that nearly 196,000 deer were registered. That's down 0.8 percent from last year.
Jamie Merckx of the Appleton area covers northeast Wisconsin for Whitetails Unlimited. He says the numbers are good and bad because it stayed about the same, but you always want to see it go up.
Statewide the total for bucks was up 0.4 percent to over 98,000.
Merckx says the change in law to let hunters use crossbows might have had an impact on the lower numbers for opening weekend. He says more people are heading out with crossbows before the start of the gun season. He says that could be affecting deer patterns.